Buy Instagram Story Quiz Votes
At Alifollow, you can buy Instagram story quiz votes quickly, safely and easily with just a few clicks. See our deals below!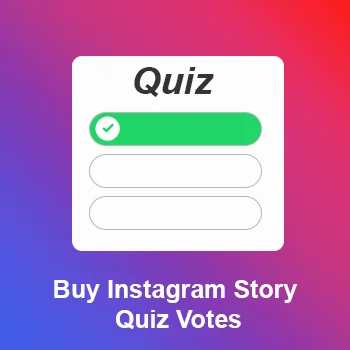 Buy Instagram Story Quiz Votes
At Alifollow, you can buy Instagram story quiz votes quickly, safely and easily with just a few clicks. See our deals below!
Buy Instagram Story Quiz Votes with
Instant Delivery
Features
Instagram Story Quiz Votes Features
Quiz Votes Quality
Have an HQ accounts
Quiz Votes Price
Starting at $1.8
Start Time
Super Instant
Support
24/7 Live
Guarantee
Delivery & Refund
How to buy
Secure Payments
Description
One of the features added to the Instagram social network is called Quiz, which is available from the sticker menu of the story section. With this feature, you can create a quiz with a question with four different options to answer. After the story containing the quiz is published, the followers will participate in the contest and answer the question, and you will be informed about their chosen option as well as the selected percentage of each option.
Alifollow, as always, has also provided the services of this part of Instagram, where you can purchase story quizzes to increase Instagram Quiz Story votes so that you can be a sure winner in story contests with Instagram fake votes.
A quiz in the Instagram story is a useful feature that you can do something beyond a regular poll (with yes and no options) and get better feedback from your followers. Naturally, business owners and webmasters will take full advantage of this feature.
Buy Instagram Quiz Story votes
Buying Instagram story votes is one of the important factors in increasing the engagement rate of your Instagram page. In your stories, you can challenge your followers and audience with polls (two-choice or four-choice). To get a lot of votes in the story poll challenge or to get the most votes for your desired option and win the challenge and the game, you can buy a real Instagram story vote at a low cost without the owner of the challenge page realizing it. In your name.
Note that Instagram storytelling is in two modes, the first mode is a two-choice storytelling mode and the second mode is a four-choice voting story, which is often called a quiz or test, be sure to place your purchase order from the correct panel Complete.
Important points before buying story Quiz Votes
• Votes are fake and order registration means confirmation of this function.
• When filling out the Instagram vote purchase form, be sure to enter your desired story link on Instagram in the relevant field.
• To copy the link, open the desired story with the Instagram application and then select the copy link option from the bottom menu.
• If you want to buy votes for several of your photos, you need to register your order for each photo separately.
What is the difference between a poll vote and a quiz vote?
Poll Vote The sticker has two options and is usually marked as right and left or up and down with two different colors. But the quiz vote in the story (Quiz) is more than two options (4 options) that are placed below each other.
What is a poll in the Instagram story and what is its use?
The poll sticker poll on the Instagram story is the same yes or no that is usually asked of followers. For example, we put a photo of a hot drink in the story and a poll sticker on whether you like hot or cold drinks. Polls are usually two-choice and are answered with yes or no. The voting result is also visible as a percentage of the page followers.
The main application of using polls in Instagram stories is to increase the audience's interaction with stories. We can use interactive stories and stickers like Poll to get the audience to engage with our content. Basically, by doing this, we can increase the number of visits to our stories.
Apart from this, we can inquire about the interests of our audience when we use two-choice polls in stories. This will help us a lot in marketing our products and services in the future. For example, if we have a store page in the field of selling scarves and shawls, if we put two models of scarves in the stories and find out with a poll sticker which one is more popular with our page audience, we can sell that product more easily in the future. Or make more similar examples of that product available.
---
FAQs
Frequently Asked Questions That You May Have When Buying Instagram Story Quiz Votes
Poll Votes are two-choice and are usually marked left and right with green and red. But the quiz vote in the story (Quiz) can have more than two options and is also displayed as the following options.
When registering the order, you will be asked for the desired story link.
Very simple, when registering the order, you specify what color you want, green or red ?!
The order of the story Quiz votes will be registered in the server immediately after the purchase and will be applied depending on the number of votes during the period stated in the service description.
If we are unable to process your request, an immediate refund will be refunded in the same manner as the payment used at the time of purchase, and may take several hours to be credited to your account.
No. Under no circumstances should you provide your password to a person, site or company.
Yes. Before ordering, be sure to change the relevant page from private to private or public, and do not change its status until the end of the order. (This condition applies to all orders)
Conditions
please don't buy quiz votes for the same page until the previous order is in progress.
The page must be public until the order is completed.
The story should not be deleted.
Reviews
Thanks for review
Your comment has been submitted and will be displayed after approval.

Login to your account to chat with users.