Buy Instagram Explore Page Services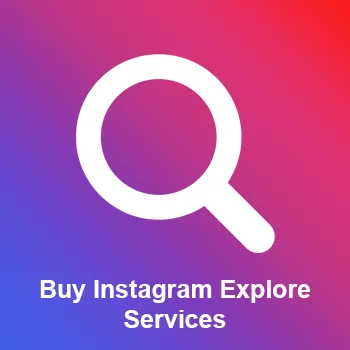 Buy Instagram Explore Page Services
Buy Instagram Explore Services with
Instant Delivery
Features
Instagram Explore Services Features
💎Explore Services Quality
Have an HQ accounts
💲Explore Services Price
Starting at $23
⏳Start Time
Super Instant
⏱ Support
24/7 Online
⭐️ Guarantee
Delivery & Refund
🎯 How to buy
Secure Payment Methods
Description
What is Instagram Explore?
In the past, instead of the Instagram Explore tab, there was another Instagram tab called the Popular Instagram Page, or the most popular Instagram page. This page featured the most visited and most liked posts, but since the more followers you have on Instagram, the more likes and visits you have, Selena Gomez was the undisputed leader of this page. But with the passage of time and the replacement of the Instagram Explore page instead of the Popular Page, there is no longer a permanent presence of celebrities on this page, and anyone who creates higher quality and attractive content for the audience can post their content on another Instagram Explore page. View users.
How does Instagram Explore work?
This page is precisely designed for this purpose to keep you in the Instagram app for a long time. For this purpose, one of the best ways is to access it faster and fill this page with your favorite content for viewing. To do this, Instagram will personalize your Explore page for you based on the following principles, and this is Instagram's slogan for this tab.
See the world as it happens in this movie.
Instagram efforts
All the efforts of Instagram in the Explore section are to display the user's favorite posts and increase the presence of users on Instagram.
The Instagram Explore tab is based on the customer interest algorithm.
Due to this issue, of course, the Instagram function of the content of the Explore page is loaded based on the following items.
• Based on the photos you liked.
• Based on the accounts you interact with.
• Based on the posts you have saved.
• Based on the videos you have watched.
• Based on the people you follow.
• Based on the account you viewed.
Of course, there is probably another issue, and that is the content liked by your followers and close friends, whether the rightness or wrongness of this point is still in a haze of ambiguity.
To see how the content in your Instagram Explore has been uploaded to you, just click on the post you want on the Explore page and see the small Instagram help in this regard at the end of the post.
Based on interest!
As a result, if you are interested in any content model, Instagram will gradually fill in Explore content for you based on those interests. If you are interested in humorous content, you will see humorous content, and if you are interested in scientific content, your Instagram Explore tab will be useful university content.
This raises concerns about whether Instagram monitors us and obtains information from us.
The answer is yes, after a while you will realize that Instagram knows you even more than you do and tries its best to increase your time on Instagram, to earn more money It can also get more information from you to review and even sell to others.
How do the "definitive post entry to Instagram Explore" packages work ?!
The performance of the service of definite and 100% post entry to Explore Insta is such that these packages include a set of our quality services that are applied to your post with knowledge related to the Instagram algorithm by Alifollow experts and specialists. Following this order, you will receive a Like, View, Impression, Reach, some Save, some Forward Post, and… other user actions with your post about the purchased package, which will cause that post to be seen relatively in the Explore of related people. After that, you will always receive some completely real and natural followers.
Using Explore's packages, your post will enter the relevant users' Explore in a completely real way, and after that, if there is a good partnership with your post, more users of Explore will see your post in the future. This partnership depends entirely on the attractiveness of your post.
To view the results, you can view the statistics obtained from the insight section of the post.
If your Instagram profile is not in business mode, Explore service will not be offered to you!
The function of the Instagram Explore login service is that these packages include a set of our quality services that are applied to your post with knowledge related to the new Instagram algorithm by Alifollow's technical team. As a result of this order, you will receive likes, views, comments, impressions, rickshaws, saves, taps, post-visit profiles, and other user interactions with the post about the purchased package, which will make that post more visible in Explore of related people. And as a result, you will get some real and organic followers.
---
FAQs
Frequently Asked Questions That You May Have When Buying Instagram Explore Services
Yes. By purchasing Instagram Explorer services, your posts will enter Instagram Explorer and videos that are attractive and user-friendly will be seen by followers and even liked.
If your page is a business, you can log in to Instagram insights, how to log in and users to your page and post to be informed, you can also see the amount of engagement or user interaction.
Yes, it is completely safe. Our site is covered by SSL certificate. So do not worry about your safety while shopping.
Yes. Before ordering, be sure to change the relevant page from private to private or public, and do not change its status until the end of the order. (This condition applies to all orders)
If we are unable to process your request, an immediate refund will be refunded in the same manner as the payment used at the time of purchase, and may take several hours to be credited to your account.
Conditions
please don't buy explore services for the same post until the previous order is in progress.
The page must be public until the order is completed.
The post should not be deleted or archived.
Reviews
Thanks for review
Your comment has been submitted and will be displayed after approval.

Login to your account to chat with users.