Buy Instagram Story Link Clicks & Swipe Ups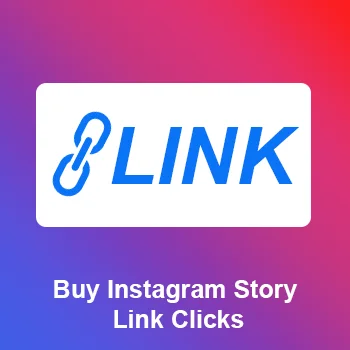 Buy Instagram Story Link Clicks & Swipe Ups
Buy Instagram Story Link Clicks with
Instant Delivery
Features
Instagram Story Link Clicks Features
💎 Link Clicks Quality
Have an HQ accounts
💲Link Clicks Price
Starting at $1.5
⏳Start Time
Super Instant
⏱ Support
24/7 Online
⭐️ Guarantee
Delivery & Refund
🎯 How to buy
Secure Payment Methods
Description
Increase clicks on Instagram story
Putting a link in an Instagram story is a feature that high-traffic pages use to advertise on Instagram. Today, users who use this feature are looking for a way to increase the number of clicks on the link in the story or to raise the see more option.
To better understand, we must first look at seeing more in the story and learn more about it. One of the useful features of Instagram to introduce a product, serv, ice, or brand and in general direct connection with various pages of sites and Instagram pages or even other social networks is this option (see more), which is active for all Instagram users.
As you know, you are only allowed to place one link on Instagram in the bio page, but with this feature, you can add many links to your site, applicant, ion, or Telegram channel by adding a link in the story.
Now that you are familiar with its use, after inserting the link in the story, Instagram will report the number of clicks on the story link or the same see more under a parameter called "Link Clicks".
Alifollow, which is a leader in providing Instagram tricks, with its new methods, introduces the service of increasing the click in the Instagram story to you so that by buying fake clicks, you can increase the number of see more clicks in a fake way and have a great psychological impact on the audience's mind. Create your own.
Note: It should be noted that by purchasing a click for a linked story, the number of views of your story will not change. So to show natural statistics, you must choose one of these two ways:
Or the number of requests you want to buy Click Story should be less than the number of views of your story.

.

Or you should use the service of increasing Instagram story traffic along with buying fake clicks for the story.
Who buys this type of service and how does it work?
Businesses and influencers love to buy Instagram story link click services. Here's how it works:
You must have a verified trading account with at least 10,000 followers.
After registering the order, we will receive the link address by scanning all your profile stories.
Then we will follow the link as many times as you have ordered.
You get unique followers from real accounts, not bots.
Click the Instagram story link from all over the world and people of all genders.
Your delivery will start immediately and your order will be completely confidential.
What are the benefits of using the Instagram story link click service and how can you use it for advertising?
There are many benefits to choosing an Instagram story link click service:
This service is great for influencers as it helps them better market the products of their advertising partners. As a result, their accounts are more valuable to potential advertisers, and both they and their partners can make more money.
Businesses and brands also benefit. They gain more recognition for the brand and their account becomes more popular and helps them increase their followers.
With this service, you will get better interaction, which means preferential behavior by Instagram algorithms, and it will cause your content to be seen by more people and increase the credibility of your account.
Better statistics mean more attention to your content.
Where should you buy the Instagram story link clicks service and why do you choose us?
Choosing Alifollow for your Instagram story link click service is important for several reasons. While competitors may offer the service, Alifollow offers a secure opportunity to grow your business in the cheapest way possible. Our users who click on the links are all real and legal accounts.
You should never worry that robotic or fake accounts will ruin your progress. We also have services with cheap prices and fast delivery. Our instant service is guaranteed, so if you do not receive all of your Instagram story link clicks service, we will replace them immediately. We work hard to keep our customers happy.
Is it safe to buy the Instagram story link click service?
Yes, this service is the safest option to visit your Instagram story links. This is because your purchase from Alifollow allows you to click on the link only from real and legal accounts. When people get into trouble with Instagram, it's usually because they've received a lot of clicks from bots or fake accounts.
Instagram often scans and clears hundreds of detected fake accounts at a time - then does the same with accounts that have a high degree of interaction with those fakes. Since we never use robots, you have nothing to worry about.
---
FAQs
Frequently Asked Questions That You May Have When Buying Instagram Story Link Clicls
Yes, there is no law against paying for interaction, including clicking the Instagram story link. Insta itself does not prohibit paying people to click on a link on Instagram, as long as they are real and active accounts. Instagram algorithms only have problems with robotic or fake accounts. There are no robots in Alifollow!
No, because the increase in clicks is done by real users, neither Insta nor your followers are aware of it. Alifollow also keeps your order information secure.
No, because the clicks you buy are all through real and quality accounts. As long as only real accounts click on your link in Instagram stories or external sites, it does not matter if you pay for Instagram story link click service. If you know someone who has already been fined, many bots are probably involved with their content or profile.
No. Under no circumstances should you provide your password to a person, site or company.
The order of the click link in the story is registered in the server immediately after purchase and, depending on the number of clicks requested, is applied during the period stated in the service description.
Conditions
please don't buy story link clicks for the same story until the previous order is in progress.
The page must be public until the order is completed.
The story should not be deleted.
Reviews
Thanks for review
Your comment has been submitted and will be displayed after approval.

Login to your account to chat with users.